Hair loss as we age is quite common. That's why you see so many products in the marketplace to replace lost hair. If you are a man with a receding hairline or a woman whose part seems to be widening due to thinning hair, take heart. Let us tell you how platelet rich plasma (PRP) may help with androgenic alopecia hair loss.
Uses For PRP
Plasma is a component in our blood that has factors or proteins that help our blood to clot. It also has proteins that help with cell growth. Platelet rich plasma is produced when a doctor isolates plasma from our blood and then concentrates it.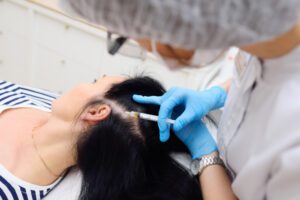 Injecting PRP into damaged tissue in our body stimulates our body to grow healthy cells and promotes healing. It is currently being used to treat muscles and joints to help injuries heal faster.
Among others it is currently being used in the following  applications:
Tendon injuries like tennis elbow and achilles tendonitis
Acute sports injuries like a pulled hamstring or knee sprain
Post-surgical repair after a torn rotator cuff
Osteoarthritis in the knee
Hair loss
Many professional athletes rely on PRP including Tiger Woods with knee injuries, Rafael Nadal, and MLB pitcher Carlos Martinez just to name a few.
Yes, It's Safe
If that was your next question, PRP has proved to be safe. The therapy uses your own blood to regrow lost hair, so there is no risk of infection or rejection.
Prior to the therapy, Dr. Alicia Carter in Miami, FL does a computerized evaluation of your scalp to study its thickness, hair density, growth rate, length, and the pattern of baldness.
It is believed PRP injections trigger natural hair growth and maintain it by increasing blood supply to the hair follicle and increasing the thickness of the hair shaft.
Injections can be given monthly for a 3 month period, then spread out over 3 or 4 months for up to 2 years. Some PRP therapy can be combined with other medications.
There are virtually no side effects with the exception of a little pressure at the injection site.
Best Candidates
Best candidates for PRP are those who have had more recent hair loss.
Those with lupus, a thyroid disease, or who are on blood thinners will not see results and are not good candidates. Heavy smokers or those with alcohol or drug problems would not be accepted.
Ready to improve your self confidence and look younger? Find out more about PRP.
Call (305) 680-3527 to schedule a consultation with Dr. Alicia Carter to find out if you would be a good candidate and how PRP can help with androgenic alopecia hair loss.