Do you want to look younger with tighter and firmer skin? PRP is a new type of facial that will change the way you think about facials forever.
A Facial Of A Different Color
That color is namely – red. Sometimes known as the "vampire facial," PRP facials use your own blood to stimulate collagen growth and create healthier skin cells. While most traditional facials remove dead skin cells, unclog pores, and increase circulation, PRP facials have more advantages, including the additional step of stimulating healing.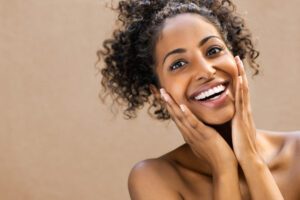 A PRP facial begins with Dr. Alicia Carter drawing blood, and then using a centrifuge to separate out the red blood cells. What remains is platelet rich plasma, or PRP,  of your own blood, which is then used on your face.
During treatment the blood is smoothed onto your face after microneedling and it eventually is absorbed into the skin. Another option is inserting it into the skin by microneedling at prescribed depths based on each person's needs.
Celebrities like Kim Kardashian swear by the "vampire facial."
Advantages Of PRP Facial Rejuvenation
First and foremost, a PRP facial uses your own body to heal itself so there is no chance of infection. The platelets contain high levels of growth factors and when applied to the skin, stimulate cell turnover. It contains collagen, elastin, antioxidants, and hydrating properties.
Collagen begins to decrease in our mid twenties and continues to decrease unless we do something to amp or pump it up. Those with fine lines and moderate wrinkles will find this facial will dramatically improve their look. Skin tightening will be almost immediate, but it usually takes several weeks to notice the full effects of the increased collagen.
Look for tighter firmer skin after PRP treatments. With the production of collagen and elastin, you can almost do away with wrinkles, acne, and other scars, stretch marks, hyperpigmentation, plus better skin texture and tone.
There is no discomfort as a local anesthetic is applied to the face.
The entire treatment lasts less than 1.5 hours, so your whole day is not lost.
There is virtually no downtime after the treatment.
Schedule a consultation with Dr. Alicia Carter in Miami, FL to find out if you are a good candidate for the PRP facial rejuvenation.
Contact Dr. Alicia Carter at (305) 680-3527 with questions or if you are interested in a PRP facial rejuvenation treatment.