Starting to see more hair in your brush and comb or in your sink? Is your middle part getting wider? It can happen to the best of us. Sadly, it can be genetic, and up until recently, there was virtually nothing you could do about it except hair transplants and some medications.
Enter PRP injections: an effective therapy for hair loss.
Men And Women Can Benefit From PRP Injections
Androgenetic alopecia is the term given to hair loss in both women and men. Genetics and environmental factors likely contribute to this problem. Male pattern baldness usually is derived from family history and male sex hormones called androgens which aid in hair growth.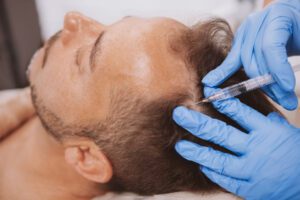 Male pattern baldness is actually formed in the pattern of an M on the head. On the other hand, when women lose hair, it thins all over their head.
Both sexes can be negatively affected when this occurs making them feel older than they are and leading to poor self esteem.
How PRP Injections Can Help
PRP, or platelet rich plasma, has been used medically to aid in joint repair and to speed up wound healing.  Now, if you have certain types of hair loss, platelet rich plasma therapy may help.
PRP comes from your own body. A small amount of blood is taken from your arm and then placed into a centrifuge to separate the platelets from the plasma. The plasma is then injected back into your body to trigger new hair growth.
PRP therapy may be able to slow hair loss and support new hair growth.
Best Candidates
Those with recent hair loss are the best candidates for PRP.
Those who take blood thinners, have thyroid disease or lupus are not good candidates. Those with a compromised immune system or inflammatory skin conditions like psoriasis are also not good candidates.
PRP is a safe and effective treatment for hair loss, but it's important to find the right professional. 
Contact Regenerative Medicine and Orthopedics at 305-680-3527  if you are unhappy with your hair loss and want to find out if PRP therapy is right for you.